Looking to eat and drink your way through Japan?
In that case, Hakuba Village, Shiga Kogen, Nozawa Onsen, and Myoko are where you'll want to be! After experiencing the food and drink found here as well as the passion, culture, and fresh local ingredients that make it so great, you may never want to leave. So, make the most of your holiday – let's eat!
Hakuba Village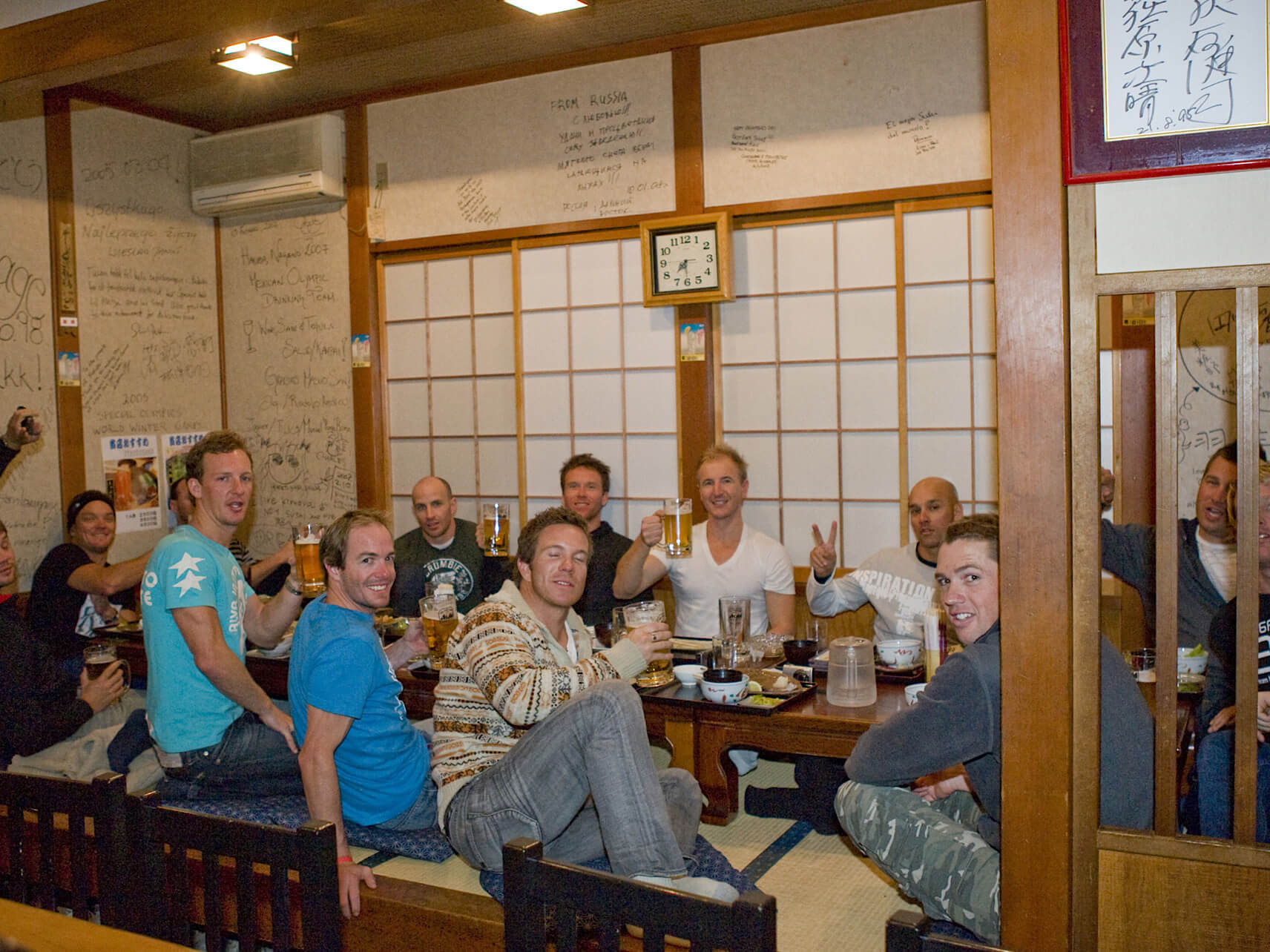 Echoland
Echoland, located in the centre of Hakuba Village, is a popular after-ski entertainment area where foreign tourists and young locals gather together. Here, there are not only pubs and bars, but many types of restaurants and cafes, including steak houses, Japanese BBQ, ramen, Western-style eateries, sweet stores, and more. Since Hakuba Village is close to Niigata Prefecture, which borders the Sea of Japan, fresh seafood is another local favourite, especially for high-quality sushi and sashimi.
In addition, to accommodate to foreign visitors, most eateries have English menus and other useful services. This includes night shuttle buses from hotels, which make it very convenient to get around. Together with the fact that many establishments are open late, it's a great place to go out for a night of drinking and fun.
Wadano Area
Wadano is located in the north-western part of Hakuba Village and borders the Happo-One Ski Resort. This stylish and luxurious collection of Western-style hotels, condominiums and chalets are tucked away in the forest and reminiscent of a European resort. It's the recommended spot for those in search of a quiet and relaxing resort stay in Hakuba Village. The snowy scenery of the oak and beech forests bring about a feeling of tranquillity while retaining accessibility.
Accommodation in Wadano is conveniently located for a ski-in/ski-out style vacation, and has a variety of facilities including a well-liked restaurant and bar. Hotels provide everything you need on-site, but are also situated nicely to international nightlife and bars. One of the most popular options is a local English-style pub which serves up large hamburgers and local beer. Here, you'll find many foreign tourists drinking late into the night.
Happo Area
The Happo Area is located in central Hakuba Village and at the foot of the Happo-One Ski Resort. As the gateway to climbing the Northern Alps, it has long been visited by many climbers and is said to be the birthplace of the guest house. Here, there are many long-established inns where you can experience Japan's celebrated hospitality culture, as well as the Happo Onsen, which has highly alkaline hot springs great for healing the body.
In this area, you can savour the unique tastes of the region and local specialties, such as ohyokkuri dumpling soup. There are also various other eateries including sushi, soba, specialty eel restaurants, and even ramen made with hot springs. In addition to enjoying the flavours of Hakuba, there are many pubs and bars nearby where you can eat and drink, as well as cafes to get your day started or relax with a nice coffee break.
Hakuba Station Area
Find this downtown destination near Hakuba Station and stretching out along Route 148 in the heart of Hakuba Village. Gathered here are the village hall, schools, banks, and supermarkets, so local people often come here. For shopping, well-known outdoor brand stores make this a great place to visit with names like Patagonia, The North Face Gravity, Koujitsu Sanso, and Snow Peak Land Station Hakuba lining the streets.
The Hakuba Station Area also has many local dining and drinking establishments that are reasonably priced, yet delicious nonetheless. Dig in at a sushi, soba, or ramen restaurant before drinking at a Japanese-style pub. Or, grab some Italian, Chinese, or whatever else you're craving that day before heading to one of the bars or wine bars for a few drinks. You can also dine-in or take-out homemade cakes and sweets at a local bakery, or combine all three dining, drinking, and dessert options to taste your way through Hakuba!
Shiga Kogen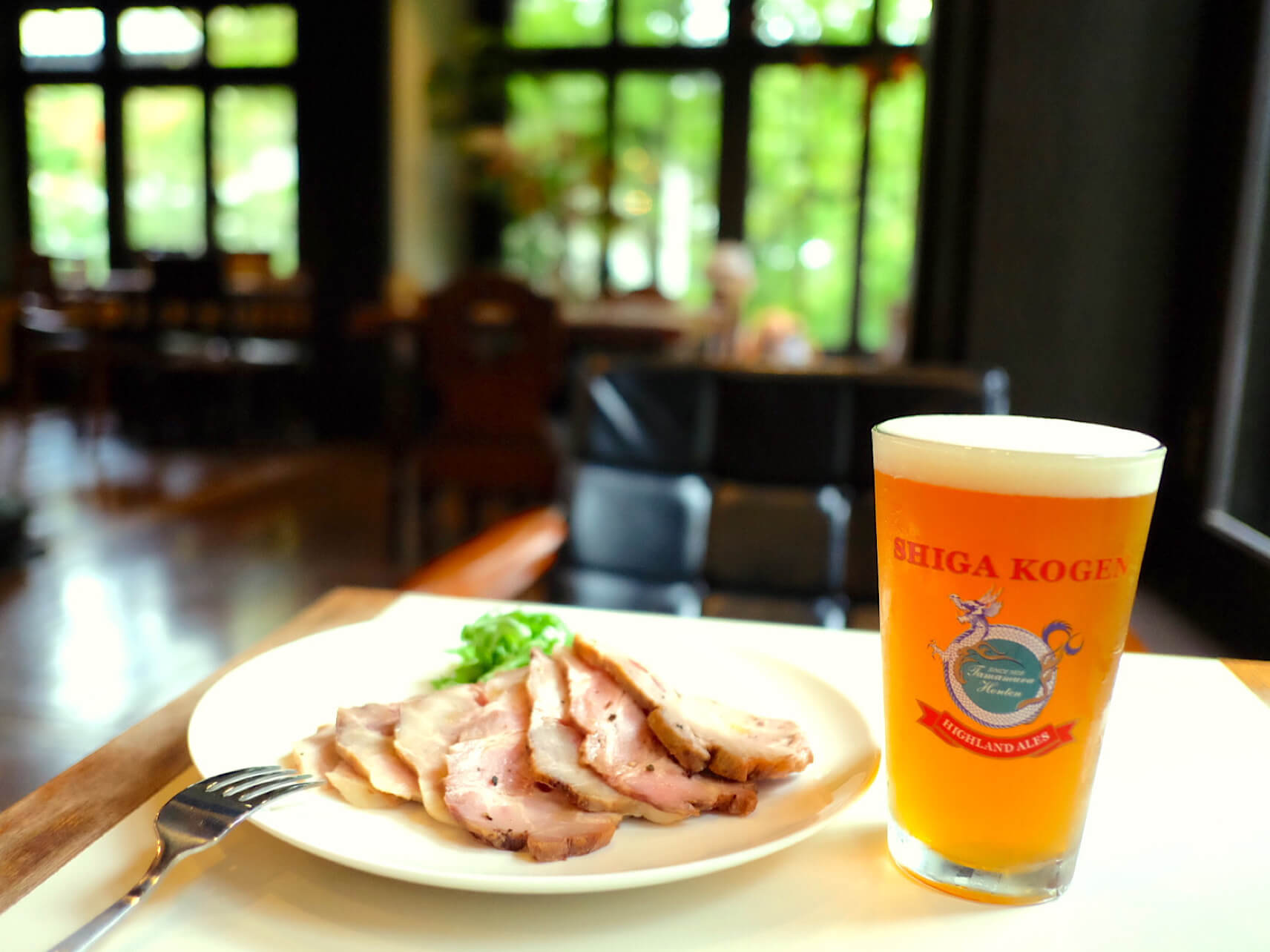 Shiga Kogen is not only the largest ski resort in Japan, but also part of a massive national park. So, there are many hotels that are directly connected to the slopes and just moments away from countless natural wonders. There's no shortage of great food either. So, why not have both? After skiing, swing by the "bakery above the clouds" at the highest peak in Shiga Kogen for freshly-made bread and spectacular unobstructed views.
There are also heaps of dining options at hotels and close by as well. Some popular choices include tsukemen acclaimed throughout the Kanto region, authentic Nepalese curry, and fresh pizza. For high-quality wagyu, head over to one of the reasonably-priced Japanese BBQ spots that buys its beef by the herd! There are also craft beer bars and restaurants around the various ski resorts, which are great for a good beer and a quick bite to eat. On the other hand, if you're looking for a nice night out, enjoy a luxurious Western-style meal at one of the stunning restaurants in the area. This includes a restaurant whose menu was developed in part by a former executive chef of the 5-star Hotel Okura Group. At Shiga Kogen, there's truly something for everyone!
Nozawa Onsen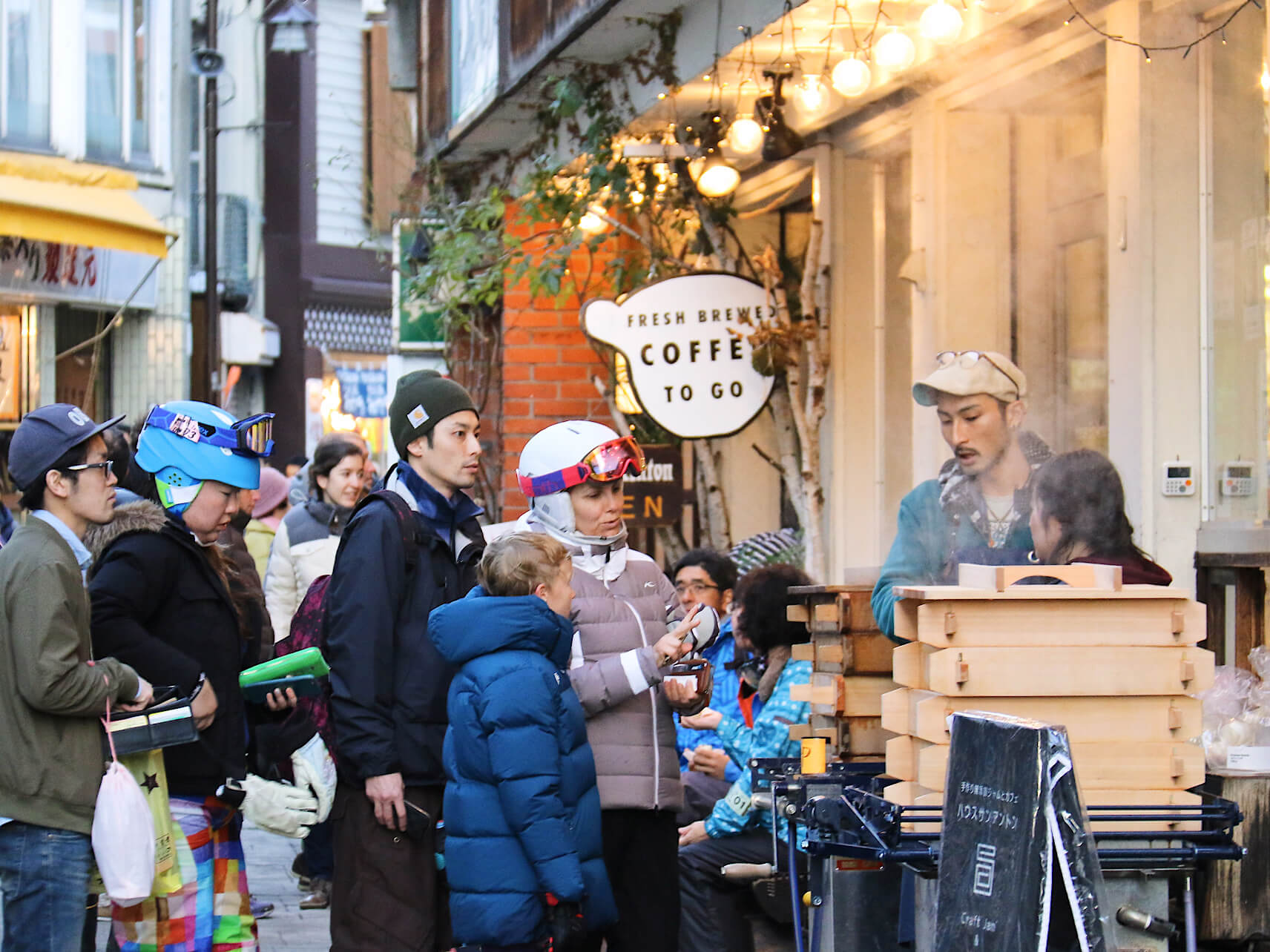 The hot spring town of Nozawa Onsen boasts an impressive atmosphere of nostalgia and traditional architecture alongside its assortment of indoor and outdoor bathhouses. After soaking in the healing waters, head to the streets outside, which are lined with restaurants, bars, and souvenir shops. If you're feeling thirsty, stop by a brewery to sip on a crisp beer made from natural snow melt. Or, find an oyaki shop for a freshly steamed dumpling, which is typically filled with nozawana pickled vegetables or red bean paste. However, if that doesn't suit your fancy, pick up other styles like a fuji apple-cinnamon dumpling for a Japanese twist on an apple pie.
For something lighter and unique to Nozawa Onsen, how about an onsen tamago? This soft-boiled egg made in hot spring waters is available to buy or you can try your hand at making it yourself. Just grab some eggs and a net at a local store and get cooking!
At night, hit the town to get whatever you're craving. This includes Shinshu (Nagano) Prefecture's distinct dining such as gibier, a traditional wild-game cuisine. For drinking, treat yourself at any of the Japanese-style pubs and lively bars that offer wide selections of Japanese sake and fruit wine.
Myoko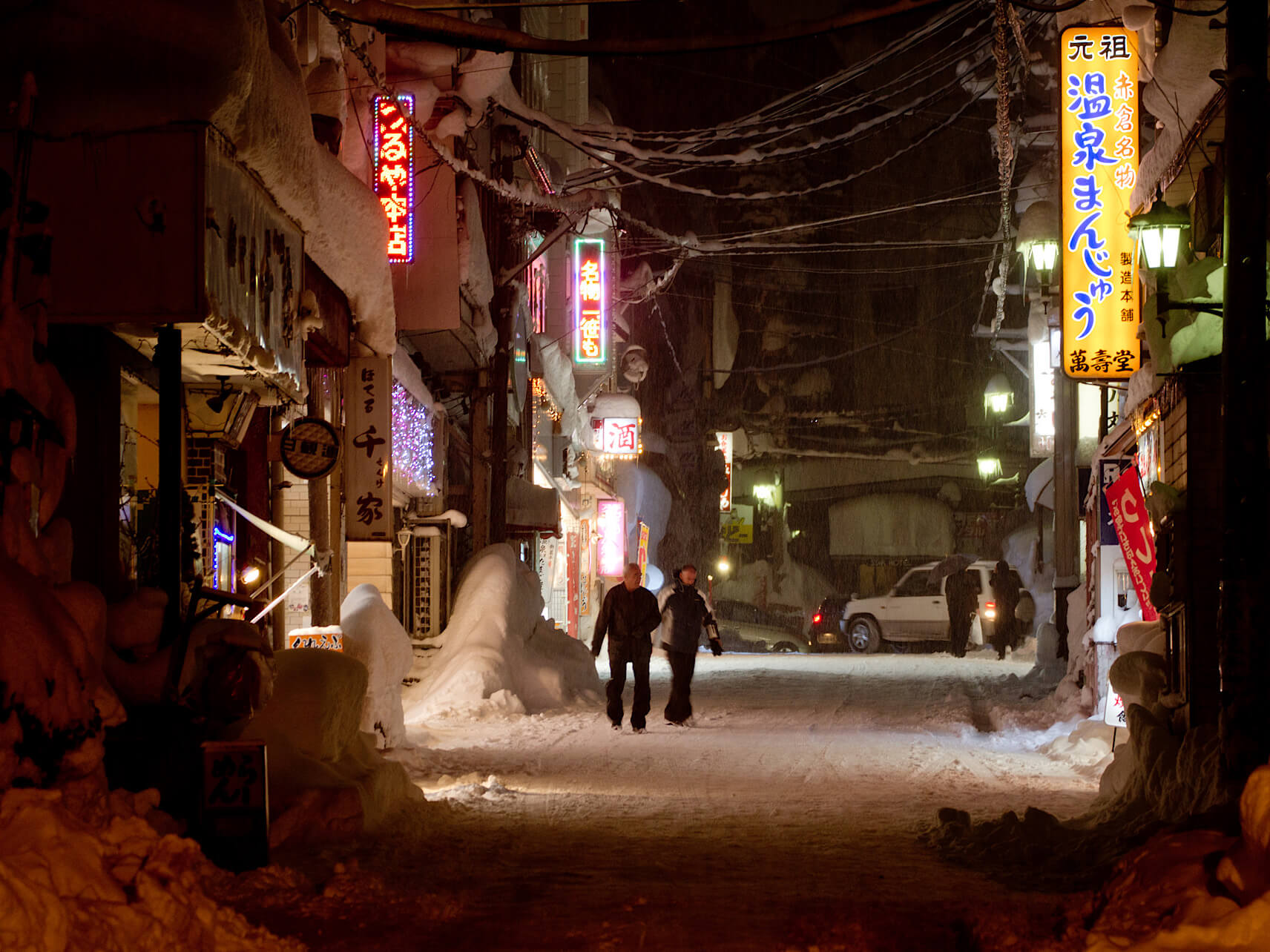 Myoko's unique location—surrounded on three sides by mountains but also at the end of the vast Takada Plain, and just under 40 kilometers from the Sea of Japan—have resulted in a unique cuisine featuring the best of mountain, farm and ocean. Many local dishes use the excellent Koshihikari rice for which Niigata is famous, as well as wild mountain plants and the fresh vegetables and fruit of the region. In ancient times, traveling from Myoko and Niigata prefecture into Nagano meant climbing up and over the many passes in the mountains, so the supply of fresh fish pretty much ended here. The seafood is still excellent here: grilled, simmered, or steamed, or fresh at the many sushi restaurants located from Myoko down to neighboring Jōetsu City.
The distinctive local foods include sasazushi—a topping of fish, egg, mountain vegetables, pickles, etc. on sushi rice, all on a sasa grass bamboo leaf. The leaf has a delightful fragrance and also has a preservative function. The sweet sasadango also uses the same leaf, this time tightly wrapping up a sweet, pounded rice confection filled with sweet bean paste. Shoots of grass bamboo are used in takenoko jiru, a soup combining the shoots with potatoes, pork, onions (and other possible combinations) and canned mackerel. Kanzuri is a locally-made spicy pepper paste; its name means "cold made," and part of the production process involves laying the peppers out into the snow for four days. This mellows the peppers before they are ground up, mixed with salt, flavorings and koji spores and fermented for three or six years. It's great with grilled chicken or meats, in soups, as a dip for fresh vegetables, and many other uses. Niigata is also the largest producer of saké in Japan, and Myoko boasts three of the very finest makers in the country—a can't-miss local treat!